So, it's Spring Break and we tried to think of cool and different things to do. Since we are members at the Zoo and haven't been in a million years, we decided to check it out on Wednesday. So we headed out after lunch.
Not sure what I was thinking, but we got caught in construction traffic in the Medical Center. What should have been a 5 minute drive took well over 40 minutes. Add to that the fact that the police had closed off all of the turn lanes we needed to aid in traffic flow, and let's just say that we were very glad to get out of the car.
Nana had joined us, and we all agreed to head straight to the giraffes to check out the new baby. The Zoo was as crowded as I had ever seen it, but Henry was really enjoying himself.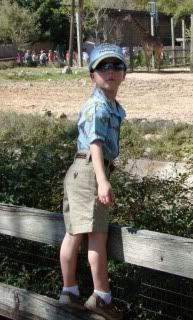 We had some great peeks at the giraffes, elephants, lions and tiger and bears (oh my!), as well as the cheetahs, jaguars and lesser-known elands. In between, we also managed an little snack (root beer floats for Nana and Mama, and a cherry icee for the boy) and a ride on the carousel.
Fortunately, we were all content with the abbreviated trip and headed home for a wonderful crock pot meal with Nana and Papa.
So on Thursday, we decided to head to Brenham to tour the Blue Bell Ice Cream factory. I had looked it up online, so I knew they had made special arrangements for Spring Break. But I had never taken Henry for the tour and Papa seemed excited about it too. So we decided to head out right after breakfast
En route, we ran across several large patches of Texas Blue Bonnets. Anyone from Texas knows it is tradition to take pictures of the kiddos with the Blue Bonnets...it's just something you gotta do. Here are the ones we snapped this year;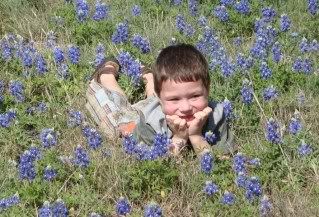 After we passed this patch, we passed several more that were even larger. But we decided that we had our shots and we pressed on. We heard ice cream calling our name.
We arrived in Brenham shortly after 11 a.m. All of our jaws dropped to the ground when we drove passed the Blue Bell factory. The lawn in front of the plant was covered with a snaking line of people. There were tents up, and even bouncies that looked like gallon tubs of ice cream.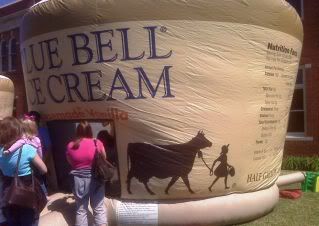 There were men at each of the parking lot entrances holding signs that read "Lot Full", but at last, we were waved in to take the place of a car that was pulling out. Whew. We piled out of the car and headed to the end of the snaking line. After we had been in line for about 10-15 minutes, we reached the "check-in" point. We were advised that if we remained in line, we could expect to be called for our tour at 1:40 p.m. Yikes...it was now 11:30 a.m. That meant waiting in line for more than 2 hours. We hadn't planned for this and hadn't eaten lunch or even packed a snack. But, we'd driven this far, we decided to tough it out.
These folks knew how to manage a crowd. As we waited, employees walked around and passed out ice cream hats.
Even better, they handed out free ice cream sandwiches. Granted, they were the miniature bars. But since we were at the factory itself, it was the freshest ice cream sandwich I had ever eaten. They also had strategically placed coolers filled with ice cold water that they provided on a complimentary basis.

They also were scooping ice cream for the nominal fee of $1 a bowl. Shortly after we got in line, Nana, Papa and Henry headed off for their first scoop of ice cream. After they returned to hold our place in line, it was my turn to go and get a scoop. Yum Yum, ice cream before lunch!

It was amazing how quickly those two hours passed. And before we knew it, we were being led into the factory to take our turn. It was very interesting to see the process of how the ice cream gets made. Henry even seemed a bit fascinated by it all and focused mostly on the production line that was making the vanilla. At the end of the tour, we were all given ANOTHER scoop of ice cream...yep, that makes two scoops of ice cream BEFORE lunch.

After the tour, we were hungry for food, so we headed to Chapel Hill and ate at the Bever's Kitchen, where we all ordered chicken fried chicken...some of the best we've had. And then, it was the long drive home.

For Friday, I decided to let Henry pick the activity of the day. I suggested we lunch at Rainforest Cafe, but then left it wide open as far as what he wanted to do. It took only a few moments for him to decide that he wanted to bowl. So that is what we did. We got to play three games...Henry won the first, I beat him for the other two. But he was a good sport about it and announced that he had fun.

We are planning on going to the Rodeo on Saturday. Stay tuned for that recap...