This is a picture of what Henry's room looked like before there was a thought of Henry. It was a guest bedroom. And it was used on a fairly regular basis.
Once there was a thought of a child in the home, we gave this child a code name of Harley. So now this room became "Harley's Room". Oh, and it was so much fun decorating. At this time, I didn't know if Harley was going to be a girl or a boy, but I was pretty sure it was going to be a boy. But just in case, the room needed to be decorated in such a way that it could go either way.
The first thing I decided was to have built-ins put in the room. I designed a unit to go across the back wall of the room that would include a window seat, a dresser, and an adjustable "desk" that could do double duty as a changing table.
I scoured the web to find a set of bedding that I loved and found one that had cartoonish bugs in "baby" colors. I was "lent" a crib by my dear friend Joyce. It had been Hailey's when she was a baby. I researched and found the best brand of glider. The key was that I wanted a glider that didn't look like a glider. And other various accoutrements were added until the room was ready for Harley to come home and occupy it. Here is what the final result looked like: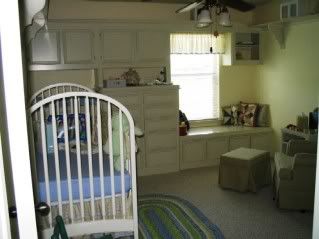 After a bit, Henry transitioned from a crib to a toddler bed that was a fire engine. The bug decals came down and new decals of firemen and policmen and firetrucks and police cars were put up.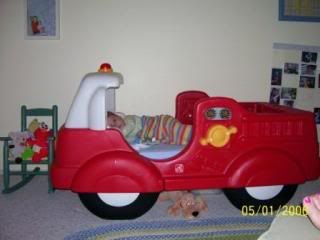 And last year, as he began kindergarten, his room was upgraded to an official "Big Boy Room" complete with a regular bed. The glider was removed, the decals were taken down. The theme of "travel" was selected. He now has icons from various places around the world, like the Eiffel tower, the Statue of Liberty and Big Ben. His bedding matches with additional icons from around the world, like the Kremlin, The Great Wall of China, The Sphinx, Taj Mahal, etc.


It fits him.