Today, there was a "Book Character Parade" at Henry's school. So we reviewed many of Henry's favorite books and tried to decide what would be a good character for him to be for the parade. His first wish was to wear his Anakin costume. While we do have some Star Wars books in our library, I wished for him to pick a more literary character instead of the a movie character that had been made into a book.
We considered Roscoe Riley, but decided at the end that it would be hard to tell if Henry was dressed as himself or as Roscoe Riley, since Roscoe is a first grade student. We needed something that would stand out a bit more.
Of course, we considered Curious George or The Man with the Yellow Hat. But in the end, we didn't think we had enough time to pull those costumes together.
We contemplated David of the David Shannon series, but ran into the same issue as Roscoe Riley.
We reconsidered Anakin and again, dismissed it thinking we could come up with something better.
In the end, we decided on Nate the Great.
Here is the finished product: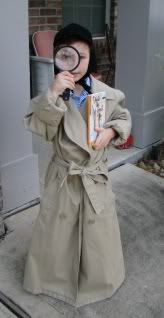 I had fun attending the parade. I was pleasantly surprised by how many of the students actually participated. Those that didn't dress served as the audience of the parade. The students gathered in the cafeteria and then paraded through each of the pods to show off their costumes.
Some other notable characters were spotted. The first grade teachers all dressed as different iterations of Junie B. Jones (who I thought was just for girls, but Henry absolutely loves!). The Cat in the Hat was there, along with Thing 1 and Thing 2. Clifford the Big Red Dog made an appearance. So did Snow White, Hannah Montana and Fancy Nancy. Spongebob Squarepants was also there (is he
really
a book character?). The main characters from "If You Give a Mouse" and "If You Give a Pig" also made an appearance. And that was just the teachers!
Among the students, Diary of a Wimpy Guy was very popular. There were also several princesses, a few butterflies and sports players. There were a few Star Wars characters, including Darth Vader himself. Oh, and there were various pirates. And Batman, Spiderman and the rest of the Super Heroes (so comic book heroes count as book characters?). Oh, and my favorite, there was a whole class that went with Chicka Chicka Boom Boom...all posing as a different letter of the alphabet. Very clever indeed.
All in all, it seems all of the kids had fun and I was glad I got to participate. I felt bad for the mom that was just showing up as it was all over and the rest of the parents were heading out.