Today is November 20, a day that is etched in my memory. It was a day of comfort of finally being at home and being a mommy. I felt like my new life could finally begin.
We had along journey from Vladivostok back to Russia and I don't have a lot of pictures to document it. Here are a few, though.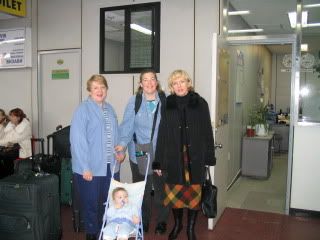 Here we are with the wonderful Irina at the airport in Vlad, before checking in for the first of 3 flights that would take us home.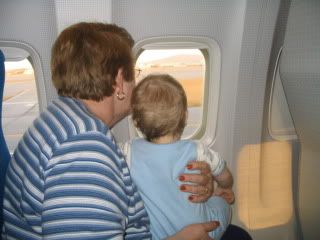 Here is Henry and Nana peeking out the window before we took off on our first flight.
And here is Henry sleeping on the seat between me and Nana on the longest leg of our journey, the segment between Seoul and San Francisco.
Overall, Henry was a trooper on the flights. For the first segment (about 2 hours long), he fell asleep and they had a little bassinet that hooked to the wall in the bulkhead seat. However, being untrained as I was, I accidentally bumped his head while putting him in there (already asleep). This woke him up and that was the end of him being in the bassinet or sleeping for the rest of that segment.

For some reason, we had very little time between our connection in Seoul. We had to go through Security again, and we were concerned that we would miss our next flight. So we were pretty much running from the time we got off the first airplane until we finally sat down on the next. Henry was starving and I remember him gnawing on his Robeez shoes while he rode along in his stroller.

As soon as we got settled on the flight between Seoul and San Francisco, I asked the flight attendant to fill his bottle with warm water so he could eat. He gobbled that bottle down as if he hadn't eaten for days. I think he ate it so quickly, that a few minutes later, he vomited it all up...all over him and all over me! Fortunately, I was prepared with a few changes of outfits for him...not so much for me. However, I was wearing layers, so I removed my top layer and was in pretty good shape.

He slept off an on during that long flight. I don't remember exactly how long that flight lasted, but it was an overnight flight. However, we passed over the international date line coming home, so we arrived on the same evening that we left...even though the trip exceeded 24 hours.

As we landed in San Francisco and went through customs, Henry officially became a US Citizen. Unfortunately, the US Government doesn't allow cameras/picture-taking in that part of the airport, so I have nothing to share with you. San Francisco is where we parted paths with Nana. After customs, she went one direction for her flight to Chicago, and we went another for our flight to Houston. Henry and I freshened up a bit, ate a bagel and waited for that final leg that would take us HOME.

I don't remember much about that last flight. I don't think Henry slept, but he was quiet and content on my lap playing with the few toys and books that I had packed for him. When we arrived at the airport in Houston, Leslie was there waiting for us. Again, the details are a bit fuzzy, but it seems like it was late on a Saturday night. By this time, Henry was DONE. I buckled him into the car seat, which was a whole new experience for him and he was cranky the whole way home. The only thing that seemed to sooth him was for me to hum the theme to Batman. If I stopped, he started crying. So all of the way home, I hummed "na na na na na na na na na na na na na na na na BATMAN" over and over and over. Whatever it took.

Based on the recommendation of my pediatrician, and with the help of my wonderful best friend, Leslie, we had an open house the following day. Now, you may ask why it was recommended by my pediatrician. In fact, I had decided that we would "nest" when we arrived home to allow us both to bond to each other and to allow ourselves to begin settling into a routine of becoming a family. I wanted to limit external stimulation and allow Henry and I to merely focus on each other. However, I had a bunch of close friends that were just so excited to meet my new son that I couldn't put them off. So we decided to go with the "big bang approach" and let them all meet immediately. Then, we could settle down and focus on bonding and attaching.

Again, I don't have a lot of pictures from that evening as we were all just enjoying each others' company. And I can't say enough how nice and comforting it was just to be home. Here are a few:


Taking his first bath at home...he wasn't a fan of baths when he first arrived home, now I can't get him out of the shower!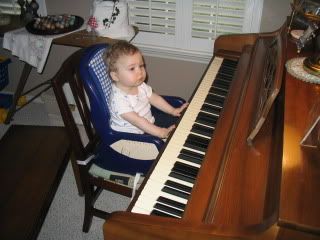 His first piano recital!
Hanging out in his high chair while I prepared the next meal.
Attending his first book-study, back when we met in people's homes.
Being sized for his first pair of "good shoes".
Attending his first meeting at the Kingdom Hall.
Playing in his first box...favorite toy. Having a kid around 24/7 was new for Dolly, too. She's not quite sure what to think.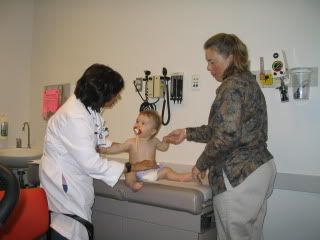 Having his first doctor's appointment with the wonderful Dr. Singhal (adoptive mother herself and featured on Discovery's Adoption Stories)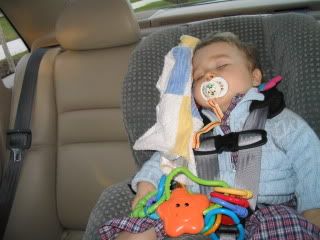 And all tuckered out after that doctor's visit, that involved drawing several vials of blood for all kinds of testing.
Reviewing these pictures to put together this blog post brought back all kinds of memories and reminded me of things I had totally forgotten about.

What I haven't forgotten is how grateful I feel to get to be Henry's parent! Prospective Adoptive Parents go into the journey called adoption, not knowing what they are going to come out with on the other side. For me, I can honestly say I have no regrets. My journey to Henry is THE best thing I've done in my life. He has become my heart and soul. And as we celebrate 5 years of being HOME, I wouldn't change a thing. That boy is my life!