We have been enjoying our time here in North Dakota. Coming here is as good as going to a cabin in the middle of the woods. But it's even better in that we get to visit extended family.
During the days, we have little outside influences to entertain us. Therefore, our week has been consumed by playing games, doing art projects, baking and decorating cookies, watching movies, putting together puzzles, and playing video games. Oh, and how can I forget...cooking and EATING.
We have spent our evenings visiting with my grandmother. She is 88 years old and currently in pretty good health. She's had some scares over the last few years and there is more family strife than an 88 year old woman should have to deal with. But we found her alert and chatty and enjoyed our evenings with her. Here is a picture of her with the kids: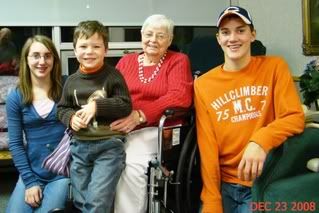 And here is a picture of 4 generations: Grandma, my dad, me and Henry.
There is a theater here in town, but it is only open Friday - Sunday. We all got extremely excited when we found out that the bowling alley would be open from 3 - 6 p.m. on Christmas Day. We arrived promptly at 3 and set up in two of the 8 lanes available. My aunt and her family arrived and took two more of the lanes...so our family hogged half the bowling alley for 2 of the three hours they were open. Here is a shot of most of the gang at the bowling alley: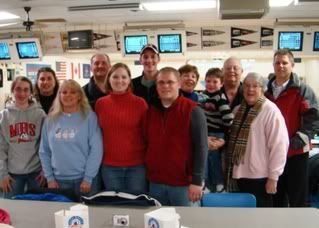 The weather has improved and it actually reached up into the mid-20's today. The kids are outside now building a fort and a hill to slide down. I'm glad that Henry got to have the "winter experience". He has a great memory and thoughts of our time here this winter should carry us for a long time before we need to repeat the experience.
One of the movies that we watched this week was Star Wars. Henry had never seen it but Trevor had shared bits and pieces with him. So before the movie even started, the kids grabbed sections of the newspaper, and with a little help from some scotch tape and markers, fashioned their own light sabres. They then ran around the house pretending to cut off each others limbs. Nice, huh?
We are planning a mini-family get-together at the bar uptown tonight, our last night here. Apparently, the bar is the only place you can get a decent pizza. We've been assured that there is a room in the back that we can hang out in so that we aren't actually in the "bar". We've been packing all day...amazing how much stuff gets so strung out all over the place in such a short period of time. The goal is to head out in the morning. We're keeping a close eye on the weather and may wait until a bit later to actually leave, depending on what we find when we wake up.