After bragging on my own dinner the other night, I wanted to make sure to give props to Leslie. In a seafood kinda week, she prepared a meal to rival what is served at Pappadeaux. For those not familiar, Pappadeaux is a cajun seafood restaurant chain that has absolutely yummy food.
She labored and prepared her own version of Shrimp Diablo, which is bacon-wrapped shrimp stuffed with jalapeno cheese. She served them on a bed of dirty rice with a serving of the best corn on the cob, ever. It was totally yummy, and best of all, there was no leftovers. Here is a shot of the plated presentation: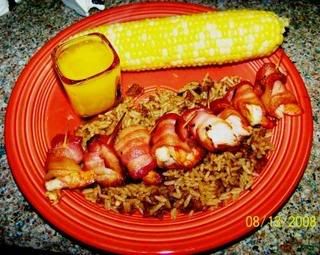 Leslie also had a talk on the school on Thursday evening. I told Henry that morning, and all he wanted to know was "front or back?". The answer was front. So after the schools split, Leslie moved up to the front row. Henry complained he was cold so I took his jacket off and draped it over his legs (he was wearing shorts). Next, he leaned up against my arm...this was about 3 minutes before Leslie's talk. He giggled and said that I was "his pillow". Well, about 2 minutes before Leslie's talk, he was sound asleep. I've never seem him fall asleep so quickly. So he missed Leslie's request to her house holder to look up a scripture in Second Proverbs.
And just to wrap up the Henry part of this story, he obviously wasn't happy when I woke him at the end of the meeting, but we managed to get home and upstairs without much to do. I undressed him (much better than the drama of asking him to do it himself in this case) and snuggled with him for a few minutes. I put him to bed in only his underwear (tidy whities). This is unusual for him as always insists on wearing his jammies...but he was too tired to argue with me on this one.
This morning, as he climbed into bed with me, I called him "Captain Underwear". A few minutes later, he was giggling and I asked him what was so funny. His reply: "You called me Captain Underwear, I think that's funny. That's why I'm laughing."
Today is his last day of summer school at Sugar Mill. Next week, he has Zoo Camp. He's not too sure about Zoo Camp, I think he's going to have an absolute blast! The following week, he will officially be a kindergartener! Yikes!