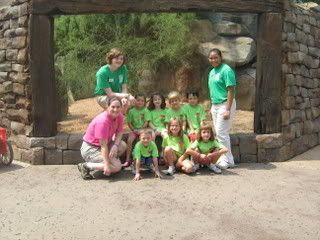 Henry spent this week at the Houston Zoo attending zoo camp. He was a little worried at the start of the week, knowing that he wouldn't know anyone there. But I assured him that he would have so much fun.

As it turns out, it has rained every day. Maybe it won't rain today, but the jury is still out. Regardless, the camp was prepared and the kids had ponchos that they wore when it was raining (as long as it wasn't thundering and lightening).

Seems like Henry has enjoyed himself and has shared all kinds of little tidbits he's learned throughout the week. He was excited that he got to touch a turtle. They are planning on riding the carousel today.

A couple of cute stories from the week: He had an "incident" with one of the other students yesterday...all very innocent. But Henry decided that he might have hurt his back and needed an ice pack. I mentioned to the teacher that Henry can be quite dramatic about things, and she conceded that they had already noticed that.

Also, on the first day of camp, Henry reported that he had been separated from the group twice. The next morning, he further embellished his separation stories to tell me that he had spent too long in the bathroom and the group had moved on without him. Well, I must say I was wondering what kind of camp this was that was allowing my 5 year old to get left behind in the bathroom. On Tuesday morning, I spoke with the head teacher, who reported that Henry had never gotten separated from the group. Turns out that Henry was just very concerned about getting separated and wanted to make sure I talked to the teacher "in case" he got separated. I think he just needed the reassurance that it wouldn't happen.