We went camping this last weekend. It was a first for Henry and the first in a long time for me. I used to camp regularly so had most of the appropriate gear stored upstairs in the attic. Henry was most excited to go camping and most looking forward to having a camp fire in the evenings. Here he is at home, all ready to go:

We had a hard time finding a place to go. The state parks nearby were either still closed due to Ike, or had "burn bans" in effect, meaning we wouldn't be able to have a camp fire. Leslie, good friend that she is, dug a little deeper and found us a National Forest that was nearby and open, and most importantly, allowing camp fires.

After we arrived and got our camp set up, we needed to go and get some wood for our camp fire. When we got back to our site, I tasked Henry with unloading the wood from the van and moving it over by the fire ring. Since it was two stacks, I figured this would keep him busy for a while. And it did. I was able to get dinner ready for us while he did the unloading and moving. He was a real trooper and didn't even complain.

Here is our tent. Yes, it is HUGE. It is a three-room tent and more than I have ever needed. But, hey, it was free thanks to Margot and Lester. They "donated" it to me several years ago. While it is a bear to set up (especially by yourself), it is nice and spacious on the inside. We draped our rope lights across the top and Henry was able to recognize our site in the dark because ours was the one with a tent that looked like a "butterfly".

Here is the "kitchen". I wasn't very creative in our meals. For dinner, we had hot dogs (roasted over the camp fire), macaroni and cheese, and baked beans. For lunch, we went even simpler and had sandwiches and chips. For breakfast on Saturday, we had oatmeal, and on Sunday, we went all out and made scrambled eggs, sausage, cheese, salsa and tortillas. Yum - Yum!

Here is Henry sitting by his first camp fire. He absolutely loved the camp fire. He was dying to roast marshmallows, but since he wasn't a fan of eating them, he only got to roast a single one. He did enjoy sipping on his hot chocolate before retiring for the evening.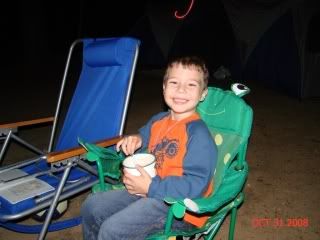 And here he is snuggled in and sound asleep in his new sleeping bag. He slept soundly (wish I could say the same) and awoke fresh and eager to face the new day.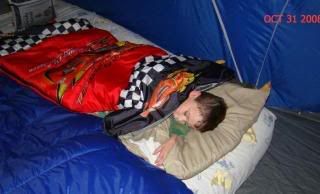 Here is a wide-angle view of our camp site. It was absolutely beautiful. You can see Leslie's shadow in the foreground of the picture. If you followed that trail, it lead to a lake behind our camp site. The trail led all the way around the lake. We "hiked" it twice, once in the morning, and again in the afternoon after Leslie arrived. Also, at the end of the trail in our campsite, there was a pier with a bench that you could sit and look out at the water or up at the stars at night.

Here is a shot of Henry on one of our hikes.

And another in the little amphitheater at the park. Henry was counting how many benches there were.

Okay, not the best shot of me, but here we are with Dolly. It took her a while to settle down into camping. At the beginning, she wanted to bark at everything she saw move. In the woods, that's a lot of stuff.

Another one from our walk. Henry pretended this pier was a boat and he was using his stick to paddle us along.

For some reason, Henry has become fascinated with hopscotch lately. Since Leslie had brought some sidewalk chalk with her, Henry decided we should draw a hopscotch and play. After consulting Wikepedia from my blackberry, we gave it a try. It's been probably more than 30 years since the last time I played hopscotch. And other than working up a sweat, we did have fun trying to teach Henry how to play.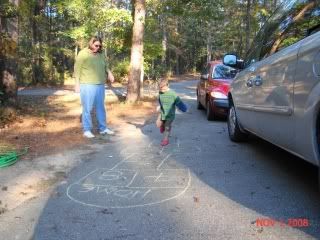 "Ahhh, this is the life!" This is one of Henry's favorite expressions. He learned it from Jungle Book and somehow always seems to say it at just the appropriate times. And this is one of those times. What could be better than playing with a LiteBrite next to a camp fire.

And so, here I am at the end of my picture parade of our camping trip, and you still don't understand the title of the post. So allow me to explain.

On Saturday night, as we were walking back from the restrooms, Henry asked me to turn off the flashlight. I thought this was a pretty big deal since it was pitch black outside. He explained to me that we were going to use our senses to get back to our camp site (the 5 senses was the theme of his school week so very fresh in his mind). He further explained that we were going to use the sense of feel, based on what we felt with our feet walking back. Finally, he told me if we tripped while we were walking, that would be called a "feel trip". I thought that was pretty funny stuff.

And finally, if you ask Henry what his favorite part of the camping weekend was, it was the explosions. You see, we were camping underneath some of the tallest pine trees I have ever seen. That means that the ground was covered in pine needles and pine cones. In the National Forests (unlike the state parks), it is perfectly legal to pick up dead wood and dried leaves from the ground to put in your fire. Henry spent HOURS gathering handfuls of pine needles, pine cones, and small twigs to throw into the fire. As he did so, it would cause the fire to flare up. He referred to these flares as "explosions". And he just couldn't get enough of 'em.