One of Henry's new favorite expressions (thanks to Jimmy Neutron) is Behold The Fill-in-the-Blank. So it seems appropriate to title this blog post as Behold the Bed.
So below are the pics from the new room.
A few notes:
The theme of the room is "Around the World". This seems totally appropriate for Henry. Every time he hears about a new place, his response is "I want to go there". On his list of places he wants to go: The great wall of China, Australia, San Francisco, New York, the pyramids. You get the idea.
We have some really cool artwork that isn't hung up on the walls yet. I have some great photos that my friend Dena took of landmarks around the world. She cartooned them and framed them. We wanted to get a feel for the room before we placed the artwork on the walls.
The desk chair has been backordered. It should be in next week. That will provide Henry with a great "work area" to color or do projects.
With no further ado, Behold the Bed!!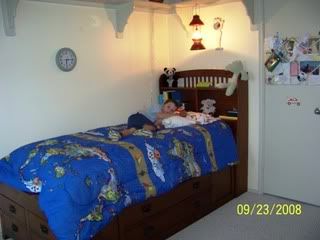 This armoire is one Leslie has had for quite some time. Inside, one side has shelves. We put stacking bins in the other side for storage of some of his toys. The cart next to it contains his "dress-up" stuff.
And here is Henry playing with some stickers on a temporary stool at this desk.
I had the built-ins put in shortly after I decided to adopt. I kind of designed the layout myself, and the builder tweaked the plans just a little bit. In the picture, you can see the desk. It is adjustable. When Henry first came home, I used it as a changing table, so I had it adjusted higher. Now that he is using it as a desk, it is adjusted lower. It can adjust higher again as he grows.

Next to the desk is a built in dresser. On the other side of that, is a window seat. I've always envisioned that any child of mine would love to read as much as I do. I have this vision in my head of Henry curled up in his window seat on a rainy day reading his favorite book. It hasn't happened yet, but it could.

There is also a trophy shelf that wraps around 3 1/2 walls (it was going to go all of the way around, but when they put in the supports next to the door to support the part that would go over the door, I had to put a stop to it...it felt like you were walking into a cave and I was afraid I'd bump my head). Anyway, he has all kinds of neat memorabilia up there, including souvenirs from his time in Russia, trinkets I've brought him from Mexico, trimmings from his first haircut, hand prints from each year since he's been home, an autographed ball from the Houston Comets, his piano recital trophy and summer reading trophies, and several other things that escape me right now. I look forward to continuing to clutter that trophy shelf with additional meaningful things in the years to come.