Next on the agenda for our KC trip was the main event...the wedding of Dwight and Belkis.
When we arrived at the hotel, it was pouring rain. Our thoughts were with the bride and groom as we knew they'd have various tasks that they would now have to do in the rain. However, when we re-emerged from the hotel, we found the rain had stopped, the sun was shining and it was a beautiful Friday afternoon.
We headed to Kingdom Hall where the wedding would occur. As we arrived, we spotted Dwight striding across the parking lot. Henry took off at a trot and gave him a HUGE hug. We followed shortly behind and got/gave our own big hugs. (Good thing, too, as this was the only quality-time we had with the groom.)
We spotted Brian, Maria and Joaquin and shared hugs and kisses with them, too. Soon, the ceremony began. This was a small crowd (by design) and it had a nice, informal feel to it. Belkis' children, Luis and Natalia served as groomsman and bridesmaid. Luis escorted Belkis' mother (his grandmother) to her seat, then Dwight escorted his mother. Next Natalia came down the aisle. Finally, Belkis appeared. Dwight looked on with a huge grin. Belkis seemed a bit nervous. After taking their seats on the stage, the ceremony began. It was short and sweet, punctuated with some funny stories, and funny moments (Dwight and Belkis' attempt at reciting their vows). In the end, they were pronounced husband and wife:
After the ceremony, we hung out in the parking lot for a while. It really was a beautiful day and the landscaping at the hall was wonderful. Here are some pictures to showcase the new outfit (I blogged about last week) Henry wore to the wedding:
At the reception, everything was lovely. The head table and the cake table were both outfitted with lights connected to the table under the tablecloths. The effect was really cool. We also met up with Brad, and his wife and daughter. We had met Brad many, many moons ago (actually, I met Brad the same weekend I met Brian and Dwight). It was interesting catching up with him. It's amazing how much can happen in 12 years. While their daughter was only 21 months, Henry took a shine to her. And when the music started, the two could often be found together on the dance floor. It was hard to tell which was leading.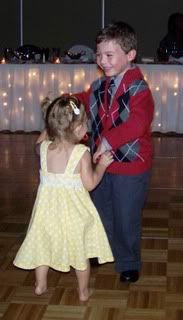 At some point in the evening, we were able to get a group picture taken with the Bride and Groom, always a must when the gang gets together.
The only thing missing in the photo was Joaquin. And because he is just the most adorable baby in the universe, here is a shot of him dolled up for the event: