So, now that the recipients have received these, I can blog about the project that I was working on so diligently on Sunday. It was a lot of fun and I am anxious to do this again once we set a date to take Henry to Disney World.
My sister and sister-in-law made these a few years ago when they went to the parks. They told me they were a great hit and that they were constantly stopped by others inquiring where they could buy a similar shirt.
This is my first attempt to tie-dye, so I apologize to the group that received them as they probably aren't the best that they could be. But overall, I was happy with they way they turned out.
The concept is to create a tie-dyed t-shirt with a Mickey Mouse head front and center. I bought the supplies and t-shirts months and months ago as my friends' trip was scheduled to occur in April. It ended up having to be re-scheduled to October, giving me more time to procrastinate. So here I was, the weekend before departure, finally making good on my offer to make these t-shirts.
You start out by tracing a MM head on the front of the t-shirt. (Fortunately, I had a magnet that we used on the door of our Disney Cruise that was the perfect size.) Next, you baste stitch the outline of the MM head.
After you have the stitching complete, you cinch up the threads forcing the MM head to pooch out.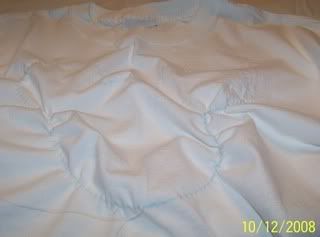 Next, you place a rubber band around this section making sure that only the MM head is included. I then wrapped this section in plastic wrap and tape to protect it and keep it white. I then layed out the shirt as flat as possible. I swirled the shirt and placed three more rubber bands around the shirt to divide it into 6 sections.